Do you work with publicly listed clients and are currently looking to upscale your service offerings?
The ISR Partners Program offers agency partners unique white-label reporting solutions delivering data-driven, brandable sentiment reports to serve clients better.

Upscale your Agency Solutions
The Investor Sentiment Report Partners Program is a white-label solution designed for various firms working with clients in the public sector across the globe. Utilizing the best-in-kind media intelligence API technology, the ISR provides partners actionable insights to help clients monitor the performance of their investor relations and corporate communication efforts—through ready for distribution reporting.

Whether you're looking to attract new clients, improve your current service offerings, or add new revenue streams, the ISR offers a perfect solution to strengthen your brand and support your company's growth.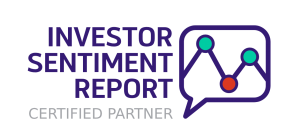 Generate new revenue streams for your business, while providing clients critical insights on the market's sentiment towards their company and stock. As a Certified Partner, leveraging the ISR technology will help you add value to your publicly listed clients, and open new opportunities for your company to offer additional marketing & communication service solutions. 
Integrate your company branding and present a unified front to your clients with the new solution. Powered by ISR, all reports received by our Certified Partners include personalized company logos and matched colour schemes to ensure consistency with your brand. 
ISR provides users with simplified reporting, leveraging the benefits of a hands-off tool to deliver all relevant online conversations concerning their company stock. It is designed to reduce the number of hours spent analyzing complex dashboards and compiling reports—offering a single, intuitive report delivered straight into your inbox on a monthly basis
Certified Partners receive premium pricing tiers when registering for a sentiment report. With a one-time activation fee, this entails preferred pricing per report as you purchase in bulk and can use it across multiple clients.
Opportunity to add a new solution that does not require an additional managing team to your existing service offerings. The ISR leverages media intelligence API technology enabling partners to share ISR-prepared reports with clients simply.
ISR Certified Partner Logo
Add the ISR Certified Partner logo to your website for additional credibility.
Interested in utilizing the Investor Sentiment Report to your client base?
Complete the form to connect with our business development team.